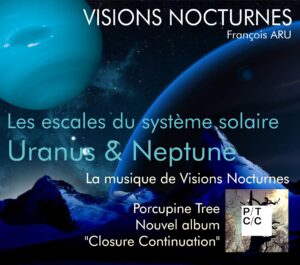 First broadcast on Saturday June 25 at 18 p.m. Rebroadcast on Sunday 26 at 22 p.m.
The depths of the solar system, we are almost there, if we consider that Pluto is still part of it, with a duo spaced more than 1 billion 600 million KM Uranus and Neptune.
For these last 2 gaseous planets, it is especially their satellites that challenge us.

Soaring and progressive the music of Visions Nocturnes
For the sequence Retrofuture, Even if Tom Cruise is not a pilot in real life, we will fly over the musical success of the first part of Top Gun of the 80s with Giorgio Moroder, a regular on the show, he propelled Berlin for all those who made tapestry in the discotheques.
Back to Steven Wilson. Steven Wilson is reviving a legend with the new Porcupine Tree album "Closure Continuation" which is released this June 24th.
2 blue planets for the price of one between Miranda and Néréide you are good in Night Visions.

playlist
– Steven Wilson – Nowhere Now, from the album To The Bone in 2017
– Nick Cave – Cosmic Dancer in 2020
– Steven Wilson – 2011 Grac for Drowing Album Index
– Rush – Losing It from the album Signals in 1982
– Berlin – Take My Breath Away in 1987
– Porcupine Tree – Herd Culling and Of The New Day from the 2022 album Closure Continuation.
– Marillion – Angelina from the album "Marbles in the Park" in 2015
The narrations are accompanied by Bass Communion – Cenotaph in 2017.