Planet Jarre, 50 ans de musique en 5.1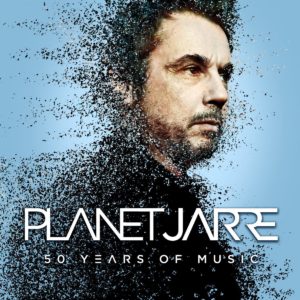 C'est par un série d'images mystérieuses publiées sur les réseaux sociaux que Jean-Michel Jarre a annoncé la sortie le 14 septembre prochain d'une compilation célébrant ses cinquante ans de carrière intitulée « Planet Jarre ».
41 morceaux, dont deux inédits et quelques raretés, seront proposés en 5.1.
Les morceaux seront classés en quatre thèmes.
Explorations & Early Works


Ethnicolor
Souvenir of China
Blah Blah Cafe
Music for supermarkets (Demo Excerpt)
Roseland
La cage
Erosmachine
Hypnose
The song of the burnt barns
Hapiness is a sad song
Aor bleu
Last rendez-vous
Sequences


Coachella opening (previously unreleased)
Arpeggiator
Automatic part 1 (with Vince Clarke)
Exit (with Edward Snowden)
Equinoxe 7
Oxygene 8
Stardust (with Armin Van Buuren)
Herbalizer (previously unreleased)
Revolutions
Themes


Industrial revolution part 2
Oxygene 4
Equinoxe 5
Oxygene 2
Zoolookologie
Bells
Equinoxe 4
Magnetic fields 2
Rendez-vous 2 (Laser harp)
Rendez-vous 4
Chronology 4
Soundscapes


Oxygene 19
Rendez-vous 1
Millions of stars
Chronologi 1
Oxygene 20
Equinoxe 2
Waiting for Cousteau
The heart of noise (Origin)
Chronology 4

La compilation sera disponible en pré-commande dès vendredi 22 juin.